Inside Supply Management Magazine
September / October 2020
Sourcing for the Moon and Beyond
September 15, 2020
With its sights on another series of lunar landings, NASA has combined science and research with supply management to create boundaries as limitless as space.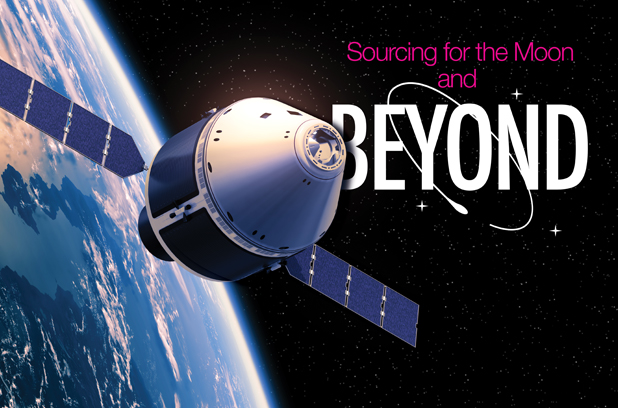 On a sweltering September afternoon in 1962, John F. Kennedy stood at a podium at the football stadium at Rice University in Houston and delivered what historians consider one of the most stirring and inspiring oratories by a U.S. president.
With the Soviet Union having taken the early lead in the space race, Kennedy did not downplay the challenges — particularly, the logistical ones — of achieving his objective of landing a man on the moon by the end of the 1960s. However, he framed the mission as not only a test of the nation's resources and ingenuity, but of its global leadership.
In the most famous passage from the speech, Kennedy said, "We choose to go to the moon," not because it's easy, he added, but because it's hard. He continued: "Because that goal will serve to organize and measure the best of our energies and skills, because that challenge is one that we are willing to accept, one we are unwilling to postpone, and one which we intend to win."
After concluding the speech — with the stadium erupting with applause — Kennedy turned to the National Aeronautics and Space Administration (NASA) administrators seated behind him. "All right," he said, "you guys figure out the details."
* * *
Six decades later, NASA engineers — and the supply managers who help missions take flight — are once again focused on the details of sending Americans to the moon and beyond. NASA's Artemis program is slated to land the next crew, including the first woman, on the lunar surface by the end of 2024. One of the most critical components of Artemis missions will be Gateway, an International Space Station (ISS)-style outpost that will orbit the moon and serve as a staging point for such deeper space flights as a Mars mission slated for the 2030s.
As it prepares to make deliveries millions of miles away, NASA could consult blueprints from past procurement victories. However, dynamics have changed in recent years: Whereas NASA once simply sent manufacturers the specifications, supply management for space exploration has become more about collaboration and commercial partnerships. Since the final space shuttle flight in 2011, NASA has tightened relationships with private companies — pushing and pulling, exchanging ideas and cost sharing.
There are huge, long and full development challenges to land on the moon again. ... But it creates a healthy tension that pushes us to deliver on commitments that are pretty audacious."
— MARK WIESE, NASA
It's a new development mindset for the agency, which has a budget that pales in comparison to the 1960s dollars spent on the Apollo program. The coronavirus (COVID-19) pandemic and political debate could impact further funding — and two other Artemis components, the Space Launch System (SLS) rocket and Orion spacecraft, have experienced cost overruns and scheduling delays, according to reports by the U.S. Government Accountability Office and NASA's Office of Inspector General (OIG).
Mark Wiese, manager of Gateway Deep Space Logistics at NASA's Kennedy Space Center in Florida, acknowledges the agency's history of, he says, "projects that run over cost and don't get done on time." He continues, "There are huge, long and full development challenges to land on the moon again. We're trying to foster innovation and mitigate risk by using multiple suppliers and not relying on a single solution, which might drive some of the old-schoolers nuts because that's not how we did it in the '60s. But it creates a healthy tension that pushes us to deliver on commitments that are pretty audacious."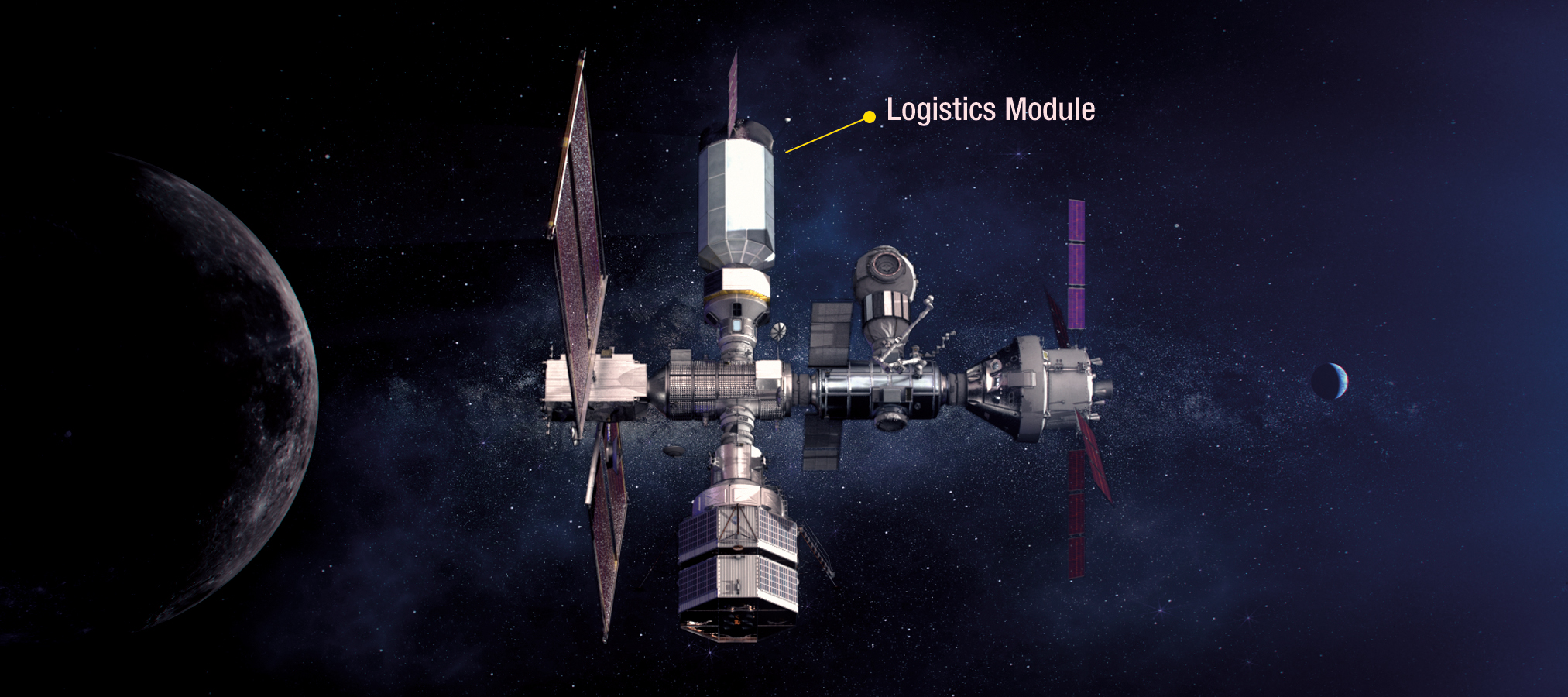 A rendering of NASA's Gateway, an outpost for lunar orbit that includes elements for power and propulsion, logistics and habitation. Gateway is designed to support long-term moon missions and serve as a staging point for deeper space exploration. (Photos courtesy of NASA)
Collaborating to 'Meet in Space'
America's giant leaps in space exploration, from the first flights and moon landings of the 1960s to the ISS (a partnership of five national space agencies) and Mars rovers of today, have been triumphs of procurement and logistics as well as science and engineering.
The Apollo program wasn't the genesis of just-in-time (JIT) manufacturing and inventory. However, NASA — by having to meet tight launch windows and protect astronauts' safety, while beating the Soviets and Kennedy's target date — perfected the concept. "Missions like that are a one-shot deal, and you'd better have everything you need on board, from supplies to spare parts," says Tracy Gill, NASA Human Landing Systems, Lander Ground Operations deputy office manager.
The Apollo-era logistics were especially impressive. Due to the Kennedy administration's desire to make space exploration a truly national endeavor, as well as a wide array of political constituencies to satisfy, production came from around the country. "From spacesuits to the components of the command and lunar modules, all had to be assembled, tested and transported from various parts of the country to the Kennedy Space Center," says Andrew R. Thomas, Ph.D., associate professor of international business at the University of Akron in Ohio and co-author of The Final Journey of the Saturn V, a 2012 book on the rocket that powered Apollo spacecrafts. "Without many of the technologies of today, not even email, they had to get it all moved through the supply chain, in a compressed time period. It's somewhat remarkable how they did it."
Although Artemis has no such geographic requirements, a broader swath of entrepreneurial companies has created "vibrant competition" for contracts, Wiese says. This is a change from the past. "There was a time when only a big aerospace company could get their foot in the door, whether with NASA or the Department of Defense," he says.
The advancement of technologies like computerized design and 3-D printing have expanded NASA's development options, encouraging the agency to seek suppliers' input on specifications and look beyond legacy manufacturers, Wiese says: "It's really opened up the trade space for us."
That was evident in the first Gateway contract awarded by NASA, in May 2019. The US$375-million agreement — for the project's power and propulsion element — was given to Maxar Technologies, a Westminster, Colorado-based satellite manufacturer, a move that surprised some aerospace-industry observers. In a source-selection statement, NASA cited Maxar's competitive bid and ability to start work quickly. NASA has also awarded contracts for the Gateway's crew module (to Northrop Grumman) and delivery of cargo, experiments and other supplies (to SpaceX).
Randy Gordon, NASA senior project manager for Gateway and ISS cargo processing, describes the agency's work with contractors as finding a balance between standardization and creativity "so we can all meet in space," he says. "We don't need to specify the requirements and approaches contractors will take. Many have done dozens of missions with us. Now, they can repurpose those designs and systems into something suitable for going to the moon."
For a project like the ISS, collaboration continues long after production and launch. Dave McCann, ISS chief engineer at Boeing, says: "Every system on the Space Station has a system manager, and most managers have a NASA counterpart. They work together on a day-to-day basis, monitoring the performance of the systems and hardware on the ISS."
Modest Budgets and Creative Contracting
In 1966, during the Apollo era, the $5.93 billion allotted to the agency was 4.4 percent of the federal budget (an all-time high) and would amount to nearly $48 billion in today's dollars. Although an increase of one-third compared to 2013, NASA's budget for fiscal year 2020 is $22.6 billion. "Every dollar we get from American taxpayers is precious," Gordon says. "So, we need to maximize whatever budget we have."
Fixed-price contracts and procurement through NASA's Next Space Technologies for Exploration Partnerships (NextSTEP) public-private partnership model are two of the ways the agency tries to control costs, says Rob Wolfinger, NASA lead contract specialist for the Gateway Logistics Services (GLS) contract. For example, the GLS contract — the procurement instrument used to bid out Gateway logistics deliveries — guarantees two logistics module missions and calls for indefinite delivery/quantity; it has a total value of $7 billion over 15 years, and NASA has an option to include other companies.
In the past, Wiese says, NASA's rigid specification requirements created "too many cogs in the machine," which not only limited supplier collaboration and innovation, but drove inefficiencies that burdened sourcing and contracting processes. Adds Wolfinger, "The whole process was slow and methodical, and it didn't have to be that way. On Gateway, we took an approach of not getting stuck in the weeds, especially with the RFP process."
For the GLS contract, NASA issued an RFP in August 2019, received proposals two months later and completed its evaluation in December. "Six weeks to evaluate four proposals on a $7-billion contract is a feat," Wolfinger says.
At NASA, commercial partnerships with suppliers are driving innovation, giving the agency more value than if it had "just put the requirements out there and chose the lowest bidder."
The contract was awarded in March, and the process included a supplier-innovation revelation, Wolfinger says: "SpaceX offered us a huge cargo-vehicle capacity, well beyond what we anticipated. We don't have the need right now and it wasn't in the (specifications), but it's allowed us to consider options we otherwise might not have. That's an example of a commercial partnership driving an innovative solution, which wouldn't have happened if we just put the requirements out there and chose the lowest bidder."
Some Gateway contracts include an incentive-payment clause that is somewhat new to NASA agreements. "We listened to the industry, and a lot of companies want to be paid earlier," Wolfinger says. "The government typically doesn't want to pay a lot up front, but with GLS, we've taken an innovative approach, where if the first mission is successful, we increase the first payment for the next mission. That has helped spur interest and acknowledge and reward contractors for their success." (In its July report, the NASA OIG identified the use of "award-fee for end-item" agreements for the Orion spacecraft as a budget strain but cited fixed-price and incentive-fee contracts as "positive steps" to controlling costs.)
ISS Provides Gateway and Mars Roadmaps
Boeing is the prime contractor for the design, development and production of the SLS rocket, but its influence also will be felt in Gateway, which will be about a sixth of the size of the ISS. Boeing was the prime contractor for the ISS, which was launched in 1998 and received its first inhabitants two years later. After a contract extension worth $916 million, finalized in July, Boeing will continue supporting the project through September 2024.
"The ISS is a test bed for the technologies that will be used to get to the moon and Mars," McCann says. "That goes beyond the hardware and systems that will be used up there. It's also about the human experience, working and living in space. We've learned a lot in 20 years about maintaining a vehicle in (low-Earth orbit)."
In pursuit of more sustainable deep-space missions, NASA must apply many of those lessons in lunar orbit, where astronauts will spend 30 to 60 days aboard Gateway. Sustainability lessons are far more critical for a mission to Mars — the red planet's next "close approach" is in October, when it will be 38.6 million miles from Earth — in which astronauts will likely spend at least two years in space.
Mean time between failure is a metric "we take to the extreme on the ISS," McCann says, as Boeing and NASA determine which devices and systems require spare parts on board or on the ground. For the latter, McCann says, it could take up to six months for a cargo vehicle to arrive with a replacement part. "We do regular assessments on the state of systems and spare parts," he says. "We present that analysis to NASA, which weighs the risks and determines what's needed. You always have to manage storage space up there."
With cargo-transport options more limited for a moon or Mars mission, inventory management is especially critical. "If going to the ISS is like camping in your backyard," Gill says, "a trip to Mars is like driving from Florida to California, relying only on what you've packed in your RV, then doing the same thing on the way back."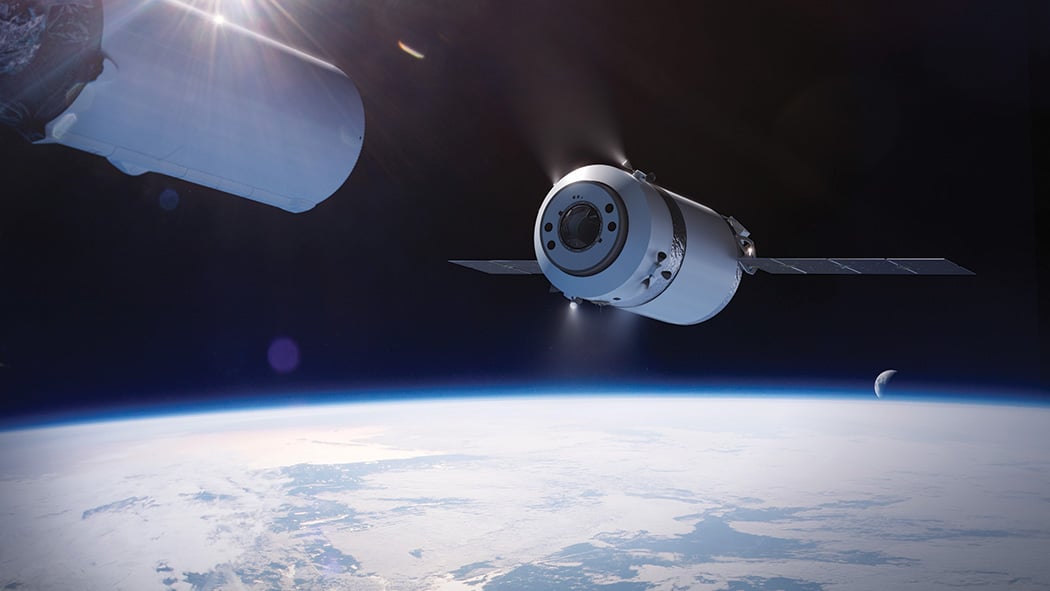 A rendering of the SpaceX Dragon XL vehicle designed to carry such cargo as spacesuits, material-collection equipment and other items that astronauts need for a lunar mission to NASA's Gateway, a planned outpost orbiting the moon.
The Future of JIT in Space Flight
The thin margins exposed by the coronavirus pandemic have placed many supply chain strategies under a microscope — perhaps none more than JIT manufacturing and inventory, as shortages of personal protective equipment and other supplies continue to impact hospitals and health-care providers. However, a shift to just-in-case stockpiling across industries is doubtful, Thomas says.
"The decision makers — the people who respond to shareholders and the investment community — are still reluctant to carry more inventory than needed, because it's not profitable to have a lot of inventory," he says. "Does that change due to COVID-19? In some industries like health care, that's likely, but in others, the inventory strategies will probably stay the same."
That is likely the case for NASA, though Wiese says the agency would explore alternate manufacturing and inventory strategies if conditions warrant. "(JIT) is still a part of everything we do," he says, adding that technologies evolve, he adds, but the tight schedules and launch windows — as well as the budget constraints that discourage inventory stockpiling — remain.
"We've got to manage costs, schedules and technical risks," Wiese says. "And it always comes down to a critical path in the schedule, where manufacturing, testing and delivery must be aligned, especially for a constrained launch time. With a deep-space probe or mission, it's even more critical. We always need the capability to swap something out at
the last minute."
* * *
"All right, you figure out the details."
Like on that September day in 1962, many specifics are to be determined, but this is NASA's moonshot timeline: Artemis I, an unmanned test of the SLS rocket, Orion spacecraft and other elements, is scheduled for next year. An Artemis II manned lunar flyby is slated for 2023. Meanwhile, Gateway is scheduled to be launched and pieced together in phases in time for a 2024 rendezvous with Artemis III, in which two astronauts will descend in a lunar module for the moon's south pole.
As with the first space race, budgets, politics and competitors are potential hurdles. But NASA is counting on connecting the worlds of science and supply chain to provide liftoff.
"I'm still amazed at the accomplishment of going to the moon 50 years ago, because it seems like a massive challenge to do it now," Gordon says. "Technology has greatly improved, which enables NASA to focus not on core things like rockets and spacecraft, but on integrating complex systems and developing new technologies. We should lean forward, focusing on the unknowns or the things we aren't yet sure how to do — and let the contractors do their work."