Inside Supply Management Magazine
September / October 2020
September/October 2020 ISM® Report On Business®: Services
September 15, 2020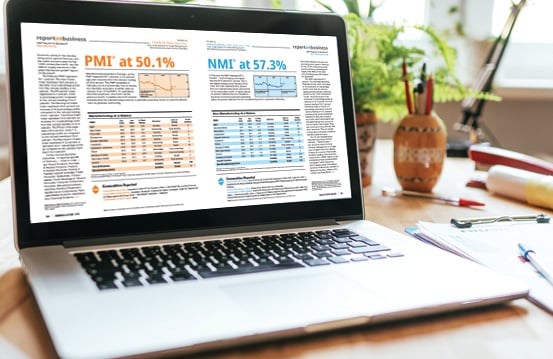 Services PMI™ at 56.9%
In August, the Services PMI ™ registered 56.9 percent, 1.2 percentage points lower than July's figure of 58.1 percent. The reading indicates the services sector grew for the third consecutive month after two months of contraction and 122 months of growth before that. A reading above 50 percent indicates the services sector economy is generally expanding; below 50 percent indicates the services sector is generally contracting.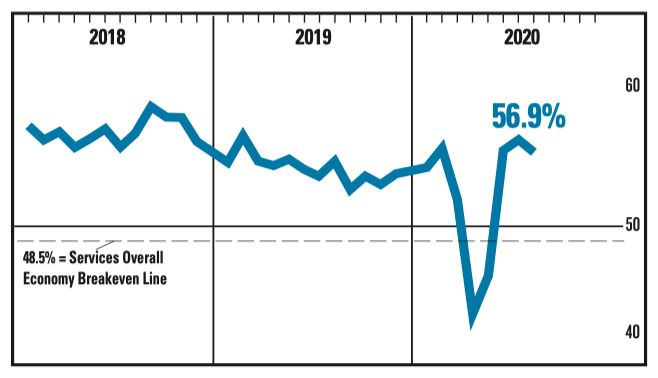 Economic activity in the services sector grew in August for the third month in a row, say the nation's purchasing and supply executives in the latest Services ISM® Report On Business® .
The Services PMI ™ (formerly the Non-Manufacturing NMI® ) registered 56.9 percent. This reading represents growth in the services sector for the third straight month and the 125th time in the last 127 months, with the exception of April's and May's contraction. Respondents' comments are mostly optimistic and industry specific about business conditions and the economy as businesses are starting to reopen. Industries that have not reopened remain concerned about the ongoing uncertainty. There is a challenge with capacity and logistics due to the pandemic and the impact on deliveries and order fulfillment. The 15 services industries reporting growth in August — listed in order — are: Arts, Entertainment & Recreation; Health Care & Social Assistance; Utilities; Accommodation & Food Services; Transportation & Warehousing; Wholesale Trade; Construction; Retail Trade; Management of Companies & Support Services; Public Administration; Finance & Insurance; Educational Services; Agriculture, Forestry, Fishing & Hunting; Real Estate, Rental & Leasing; and Professional, Scientific & Technical Services.