Inside Supply Management Magazine
September / October 2020
Refining Purchasing Metrics During COVID-19
September 15, 2020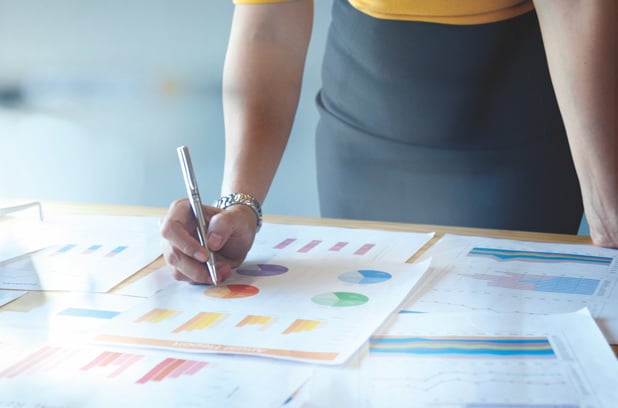 Purchasers and supply managers have historically been measured on one mega-goal: cost savings. Are the global disruptions created by the coronavirus (COVID-19) pandemic enough to convince top management that the function should be about more than cost savings?
How that question is answered in boardrooms will determine if purchasing and supply management are finally able to shed the label of being primarily — or in some cases, solely — seen as cost-reducing functions. Metrics of the Future: Moving Supply Management Beyond Cost Reduction, a report by CAPS Research, the Tempe, Arizona-based program jointly sponsored by Arizona State University and Institute for Supply Management® (ISM®), probes the issues that top management should consider in developing metrics that evaluate the strategic contribution by purchasing and supply management.
The results of the report, which is based on interviews with 31 people at 22 organizations, indicate that leading companies incorporate such metrics beyond cost reduction into their evaluation. Further, these metrics are reported to the C-suite in some companies. However, to gain meaningful recognition for these contributions, it is often necessary to translate analytics into business outcomes. Also, metrics must be relevant and relatable to internal customers.
A non-traditional metric that purchasers and supply managers report to the C-suite is contribution to cash flow, including extension of payment terms and reduction or shifting of inventory investment. With companies' tight cash supplies in this ever-shifting pandemic environment, cash flow will continue to be of high importance. Due to supply chain shortages and the critical nature of medical products and household goods in the age of COVID-19, risk management is also a focus of many companies.
Missing the Mark on Risk Management
While our study was conducted prior to the pandemic, respondents cited risk management as one of the most important ways that purchasers and supply managers contribute to organizational success beyond cost savings. However, many organizations fall short in this area: ISM's Round 1 study on the impact of the coronavirus outbreak on global supply chains, conducted in late February and early March, found that 44 percent of respondents indicated they did not have a plan in place to address disruption from China.
Despite recognizing the importance of managing and mitigating risk in supply chains, few companies have implemented the formal measurement systems to do so. If this is truly a priority, companies need to determine and understand why it is not being measured, then address that deficiency. Only eight of the 22 organizations in the CAPS Research study noted they have a formal risk-management metric — and among those, just one indicated its metric was a qualitative analytic.
Discussions with purchasing and supply management executives across many different organizations and industries, as well as with some managers from other functions such as finance, suggest the function has four major roadblocks to moving beyond a cost focus:
The perception that supply management doesn't create value beyond cost savings and reduction
Difficulty in measuring other areas of value
A need for metrics to be meaningful to operations and across multiple areas of the business
Insufficient data integrity and availability to make these metrics meaningful.
Mining the Most Value

From Metrics
Key research takeaways and recommendations by executives include developing metrics that highlight the breadth of purchasing and supply management's contribution beyond cost savings. First, metrics should be aligned internally across businesses units and functions, as well as externally to suppliers and other stakeholders is critical. Scorecards should integrate objectives and metrics of business units and the internal customers they support. The most progressive companies have shared goals across the organization, rather than functions competing for "who gets the credit."
Second, in many organizations, the supply management function still has work to do in effectively communicating how it contributes to overall success. In the companies we examined, this communication was facilitated through good working relationships with finance, which can help build purchasers' and supply managers' credibility. Finally, digitization and automation are starting to permeate purchasing and supply management processes, which will support use of more advanced metrics.
To raise awareness of their involvement in such company objectives as cash-flow improvement and risk management, purchasers and supply managers must (1) ensure metrics align with their contributions and (2) translate the data into information that is meaningful to stakeholders — and of interest to the C-suite.
By improving the quality and responsiveness of its metrics through digitization, the supply management function's contributions will be more visible and more relatable to business performance. With an added emphasis on cash flow and risk amid the pandemic, purchasers and supply managers can play an even more critical role in the success of their companies.