Inside Supply Management Magazine
September / October 2020
September/October 2020 ISM® Report On Business®: Manufacturing
September 15, 2020
PMI® at 56%
Economic activity in the manufacturing sector grew in August, with the overall economy notching a fourth consecutive month of growth, say the nation's supply executives in the latest Manufacturing ISM ® Report On Business ® . The August PMI ® registered 56 percent. This figure indicates expansion in the overall economy for the fourth month in a row after a contraction in April, which ended a period of 131 consecutive months of growth. The New Orders Index registered 67.6 percent, an increase of 6.1 percentage points from the July reading of 61.5 percent. The Production Index registered 63.3 percent, up
1.2 percentage points compared to the July reading of 62.1 percent. The Backlog of Orders Index registered 54.6 percent, an increase of
2.8 percentage points compared to the July reading of 51.8 percent. The Employment Index registered 46.4 percent, an increase of 2.1 percentage points from the July reading of 44.3 percent. The Supplier Deliveries Index registered
58.2 percent, up 2.4 percentage points from the July figure of 55.8 percent. Of the 18 manufacturing industries, 15 reported growth in August, in the following order: Wood Products; Plastics & Rubber Products; Food, Beverage & Tobacco Products; Textile Mills; Chemical Products; Computer & Electronic Products; Primary Metals; Fabricated Metal Products; Machinery; Apparel, Leather & Allied Products; Nonmetallic Mineral Products; Miscellaneous Manufacturing ‡ ; Electrical Equipment, Appliances & Components; Paper Products; and Transportation Equipment.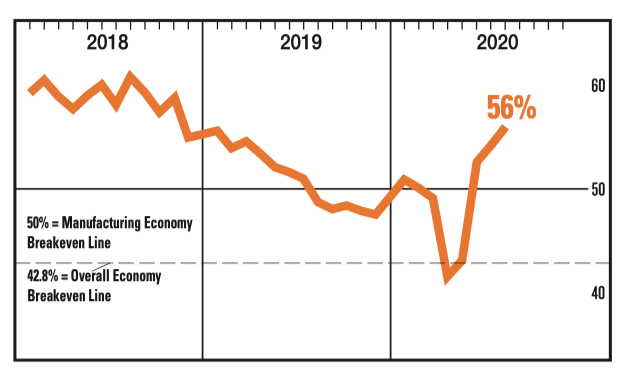 Manufacturing grew in August, as the PMI ® registered 56 percent, 1.8 percentage points higher than the July reading of 54.2 percent.
The PMI ® signaled a continued rebuilding of economic activity in August and reached its highest level of expansion since November 2018, when the index registered 58.8 percent.
Five of the big six industry sectors expanded.
The New Orders and Production indexes continued at strong expansion levels. The Supplier Deliveries Index now better reflects supplier's difficulty in maintaining delivery rates due to factory labor safety issues and transportation difficulties. Eight of the 10 subindexes were positive for the period. A reading above 50 percent indicates that the manufacturing economy is generally expanding; below 50 percent indicates that it is generally contracting.