Inside Supply Management Magazine
September / October 2020
Industry 4.0: A Practical Guide for Empowering Teams
September 15, 2020
ISM Mastery Model® Core Competency: Project Management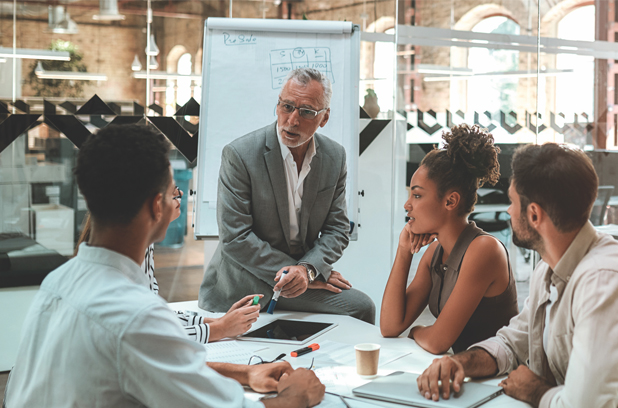 The practical productivity that can be gained through the digitization of manual processes offers organizations exciting cost-savings opportunities to address near-term headwinds. Industry 4.0 technologies can accelerate companies' digitization strategies by enabling teams to drive greater organizational agility and profitability. Think of these technologies as simply tools that do a job — in this case, software converts manual data into digital data to offer practical productivity gains.
In embracing these new technologies, organizations must (1) take a focused approach to solving business problems and (2) prioritize the implementation of software that will improve process results, increase speed and lower risk.
A Continuous-Improvement Mindset
To gain a fresh perspective on where to digitize, organizations need to focus on where their teams spend the most time. Digitizing those manual tasks will achieve the biggest productivity leaps. This practical, continuous-improvement approach to Industry 4.0 has a flywheel effect by freeing time for more strategic tasks. This time can be reinvested into smarter initiatives — including automation, machine learning and AI — to advance organizational capabilities.
Like lean deployments that led to dramatic product quality improvements in the 1980s, the new wave of purpose-built software productivity tools that offer growing levels of automation — and eventually, AI capabilities — will usher in a new industrial revolution.
An area that can offer the greatest opportunities for supply management productivity gains is project management, one of the 16 core competencies within the ISM Mastery Model®. Arguably, success on this core competency has an outsized, positive impact on the other core competencies, from supplier relationship management to logistics management.
Under project management, there are three types of manual projects — (1) day-to-day tasks, (2) event projects and (3) ongoing projects — in which software can be used to increase productivity.
1) Day-to-day tasks for teams and individuals. Most of us manage our day-to-day tasks in various formats, from pen and paper to Microsoft Outlook. We review task statuses with our managers in one-on-one meetings and with our teams in group meetings. Standardizing the format and location of this big data can quickly unlock immense productivity gains.
As an example, deploying agile project-management software empowers individuals to save time completing tasks by automating the communication of statuses to managers and teams. The software can increase productivity by as much as 20 percent, as team members spend more time solving problems and less time providing updates to one another during meetings.
2) Projects for new product development and launches. Supply management professionals often support new products through manual offline analysis. As a new product is created during development, it typically expands to include many commercial bills of materials (BOM) housed in siloed functions. These duplicate BOM cause costly delays and rework.
Automated plan-for-every-part (PFEP) software can offer a single source of truth. A practical combination of concurrent team editing and automated formula calculations, this software provides a consistent game plan for product development, launch and continuous improvement. Further, application programming interfaces (API) can be deployed to pull earlier product data from project life-cycle management (PLM) systems and push final product data to enterprise resource planning (ERP) systems to accelerate innovation.
3) Ongoing projects for continuous-improvement initiatives. Lean journeys have long included manual data input. For quick kaizen events that involve one-off analysis, spreadsheets continue to be the best tool for the job. However, the invaluable data from continuous-improvement projects needs a home.
Many organizations have built elaborate spreadsheets to track such data as inbound delivery schedules, material-handling routes and part-packaging specifications — and this approach has historically worked. But as manufacturers digitize areas of their supply chains, the offline storage of key supply chain data is becoming a bottleneck.
Some supply management leaders are consolidating an expanded set of critical part data into automated PFEP software. Digitizing part data into a standardized system empowers faster supply chain optimization. Further, instituting practical digital-productivity tools today can better position manufacturers for future automation enhancements.
Moving from Tools to Outcomes
Regardless of the manual processes an organization chooses to digitize first, the key is getting started. Replacing manual offline data offers an opportunity to reduce risk and accelerate results. The end goal should be real-time digital- information exchange within and outside a company's four walls.
More supply management leaders are turning to technology-enabled firms to deliver business-outcome services. Realizing that such digital-information tools generate outcomes, supply management professionals are turning to technology partners to craft support plans that include software, deployment and training. And in many cases, after plans are implemented, technology partners continue working with procurement teams to realize results together.
This practical, yet powerful, approach is becoming a preferred method of partnering to drive business and supply chain performance.