Inside Supply Management Magazine
November / December 2020
Hitting the Trends Accelerator
November 10, 2020
COVID-19 and rising consumer expectations have not sent the transportation and logistics sector in new directions, but current dynamics are picking up speed.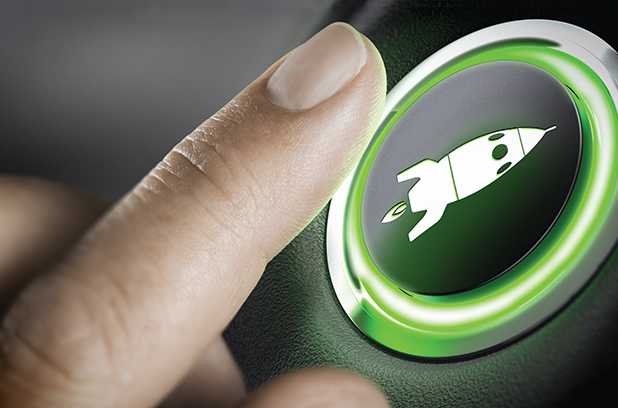 The transportation and logistics sector began this year on a dramatic change trajectory, so much so that a once-in-a-century pandemic has accelerated or intensified trends more than it's shaped them.
Long before the novel coronavirus (COVID-19) spread around the globe, transportation and logistics professionals were trying to navigate an already-turbulent business landscape. The challenges included (1) keeping up with the e-commerce explosion, (2) meeting consumers' rising performance expectations, (3) harnessing technologies like automation, (4) dealing with talent shortages and aging infrastructure and (5) managing and mitigating supply chain risks that — even minus the pandemic — were at extraordinary levels.
While COVID-19 might have only exacerbated current transportation and logistics issues, it is the first event since perhaps World War II to have a significant and sustained direct impact on consumers. And many of those changes could be permanent, meaning the sector must adjust, says Ryan Kelly, vice president of global e-commerce marketing at FedEx, the Memphis, Tennessee-based delivery services giant.
"What's different about this disruption is that it is worldwide, and it's occurred over several months with multiple surges and no predictable end," he says. "Since the disruption was not at a single point in time or in a single geographic area, recovery focus has been more complicated. And people, in both their personal and business worlds, are adjusting their lives and forming new routines that will stick to some extent in the future. As people's attitudes and routines change, so do business philosophies and models."
In speaking with subject-matter experts, Inside Supply Management® identified five trends affecting logistics practitioners. These trends are not new, but all have been impacted, perhaps for good, by the coronavirus pandemic.
1) E-Commerce Is Everywhere
Nowhere has COVID-19 slammed harder on the gas pedal than in the consumer shift from brick-and-mortar stores to online shopping. IBM's U.S. Retail Index indicates that sales from department stores and other non-essential retailers fell 25 percent in the first quarter of 2020 and 75 percent in Q2. Meanwhile, online sales reached US$200.7 billion during the quarter, a 44-percent year-over-year increase, according to the U.S. Department of Commerce.
IBM researchers found that the pandemic has accelerated the transfer from physical stores to e-commerce by five years. Before COVID-19, FedEx projected the U.S. domestic parcel market would hit 100 million packages a day within five years; the company now predicts that milestone by the end of 2023.
One of the fastest-growing e-commerce segments is groceries; New York-based market research company eMarketer forecasts a 58.5-percent year-over-year growth rate for 2020. And online grocery shopping has been identified as an e-commerce trend that is likely to last.
"The challenge is fulfillment," Michael Zimmerman, a New York-based partner in the strategic-operations practice of Kearney, a global management consulting firm in Chicago. "Some products, such as perishable groceries and pharmaceuticals, face tight, specified delivery windows and/or temperature-controlled handling. Some products don't — and it's expensive to offer same-day delivery on all products. Thus, retailers will likely segment their customers based on required service levels and cost-to-serve. For example, items such as apparel and electronics, or customers in rural areas, may have two-or-more-day delivery."
The logistics e-commerce game plan, Zimmerman says, includes (1) warehouse and distribution-center automation to reduce labor costs, (2) adjusted delivery models (like crowdsourced picking and/or delivery, shared-use networks and automation) and (3) more fulfillment centers closer to urban areas.
2) Risk Management Is Even

More Critical
In an October webinar, Bindiya Vakil, CEO of Resilinc, a Milpitas, California-based provider of supply chain risk management research and analytics, said that companies have typically devoted limited resources to supply chain risk management. That appears to have changed amid the coronavirus: A March survey by London-based professional services giant PricewaterhouseCoopers found that 34 percent of CFOs indicated that supply chain issues were among their top three concerns.
Vakil said that risk management is a "broad term." Such strategies include moving manufacturing and sourcing operations from high-risk areas, finding alternative supply sources and stockpiling inventory, or investing in supply chain visibility technology.
"When we look at the cost impact to the supply chain to implementing these approaches, there's an economic impact," Vakil said. "Setting up another factory can take years and several million dollars. Holding more inventory can have millions of dollars of impact on inventory turns, as well as cash and working capital. Having multiple sources — even if you can find and qualify more suppliers — increases supply chain (complexity)."
Jim Fleming, CPSM, CPSD, Program Manager, Learning Solutions at Institute for Supply Management® (ISM®), says that visibility technology once exclusive to large companies has become more affordable for smaller organizations. "It's become more scalable, creating bandwidth for midsize and even small companies to discover alternative scenarios and be more strategic," he says.
3) Talent Shortages Continue
The trucking industry has dealt with a driver shortage in recent years: "I guess you could say we made progress in 2019 because I didn't think it got any worse than 2018," says Bob Costello, chief economist at Arlington, Virginia-based American Trucking Associations. "And manufacturing was in a contraction (for the second half) of 2019. So, part of the reason it didn't get worse was due to lower demand." Then, the pandemic hit.
The U.S. Bureau of Labor Statistics (BLS) reported truck transportation employment of 1.28 million in August, continuing a recent-months trend of the lowest figures since 2014. ATA research projects a shortage of about 105,000 drivers by 2023, a dynamic that will likely keep capacities tight. "The pipeline of new drivers was low to begin with, and it's even less because of COVID-19," Costello says. "You can't train as many drivers as you normally would be due to social-distancing guidelines."
The challenge is fulfillment. Some products, such as perishable groceries and pharmaceuticals, face tight, specified delivery windows and/or temperature-controlled handling. Some products don't — and it's expensive to offer same-day delivery on all products."
— Michael Zimmerman
Kearney
Trucking companies have increased pay to attract talent, but 30,000 drivers have not returned to work after a positive test in violation of the Federal Motor Carrier Safety Association's Drug & Alcohol Clearinghouse. "That is something (the industry) wanted. We don't want (impaired) drivers on the roads," Costello says. "I've never counted those drivers lost in previous (shortage) calculations, but I have to consider it now, even if (the driver removals) are for the right reasons. It's a reason the shortage is so acute."
4) Automation Nation
The recent growing importance of minimizing human interaction in supply chains, as well as the automation successes of Amazon and Walmart, have made current conditions more favorable for such technology, Zimmerman says. Also, 3-D printing has helped fill supply gaps, particularly with medical equipment.
"Companies spanning multiple industries are ramping up their use of robots, chatbots and autonomous vehicles for uses from brokering trucking loads to monitoring grocery store stocks," he says. "The shorter- term argument is stronger, as automation promotes social distancing, while the longer-term outlook of increasing volumes and wages has made the technology a matter of when, not if."
Among warehousing and logistics trends cited by Kearney researchers: (1) centrally managed networks that identify and resolve operational supply chain defects in real time, and (2) technologies that can intuitively direct or facilitate process execution across networks.
"There were indicators that companies were pursuing automation, but COVID-19 put those plans aside," says Michael Mikitka, executive vice president of MHI's Knowledge Center and the Warehousing Education and Research Council. "I think as organizations take what they've learned from this pandemic, they'll look at how to include automation as a solution moving forward."
In transportation, San Diego-based autonomous truck startup TuSimple has generated recent media buzz, but with the technology still in refinement, semi-trailers being self-driven on America's highways is still years away, says Robert Brown, TuSimple head of government and public affairs. "It's not 'The Jetsons' just yet," he says. "The earliest it will be at scale is 2024, and it's going to take some time to (grow). It will be regional-specific at the start."
Brown says an ideal autonomous shipment entails a truck self-driving for most of the highway miles, with a human navigating the last, local part of the trip. (TuSimple's trucks will have local self-driving capabilities, he adds.) Costello is skeptical: "Not only will vehicles have to talk to each other, they have to talk to the infrastructure," he says. "We can't get enough money to fix potholes, let alone establish (autonomous-driving technology)."
In its report Failure to Act, the American Society of Civil Engineers projects that $4.1 trillion will be needed over the next two decades for deficiencies in the nation's transit systems, roads and bridges, even with gains in connected and autonomous vehicle technology.
5) Close-to-You Distribution
On the day Costello spoke with Inside Supply Management®, he was working from home as an Amazon vehicle
pulled up for a delivery on his street, emphasizing how local distribution has become. "In e-commerce, the product is delivered in a van, not in a big trailer," he says. "If I'm sitting in my house in Virginia and order something for delivery in two days, it's not coming from California. It may have (originally), but it's likely in a warehouse in Virginia or Maryland."
Warehouse construction continues unabated in the U.S., according to data from Chicago-based real-estate firm Cushman & Wakefield, which projects that 573.4 million square feet of industrial space will be available by the end of 2021. Much of that capacity, Zimmerman says, will be close to urban areas and customer bases to fulfill same- and next-day deliveries and minimize last-mile costs.
"To meet customers' expectations, retailers will alter their traditional networks of distribution centers," Zimmerman says. "Now, more inventory will be positioned across more locations closer to the consumer." Closer proximity to customers will be especially critical for grocers and pharmacies — though they could fulfill some urban orders from their physical stores, he says, micro-fulfillment centers would significantly lower the cost to serve.
Such hyper-local distribution could also impact trucking, as more jobs might be needed for last-mile delivery or short trips to and from warehouses and fulfillment centers. Local trucking employment increased 7.4 percent between April and July, according to BLS data.
***
While the pandemic has intensified these five trends, Mikitka says the transportation and logistics sector has a golden opportunity to capitalize on another, more overarching trend: the attention — from executives, lawmakers and consumers — that COVID-19 has put on the value of supply chains.
"There's value to be gained from companies focusing on their supply chains in a different way than they did in the past," Mikitka says. "It looks like the government will look at them differently as well, particularly with health-care and food products. While the supply chain has been stretched thin, it never broke down. There were disruptions, but the transportation and logistics came through, which is a good thing that we need to sustain."