Inside Supply Management Magazine
November / December 2020
Turning Change Into a Growth Opportunity
November 10, 2020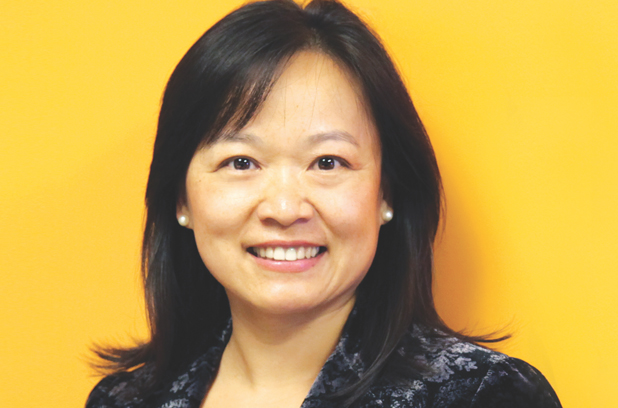 Susanna Zhu
Title: Vice president, U.S. manufacturing and supply chain operations
Company: The Hershey Company
Location: Hershey, Pennsylvania
Leadership: Member, Institute for Supply Management® Board of Directors
Family: Married with two children
Favorite food and drink: Sushi and mojitos
Favorite pastimes: Ballroom dancing, yoga and travel
Describe your job in one sentence.
I lead the manufacturing and supply chain team at the Hershey Company, focused on driving profitable growth by making the right products, the right quantity, at the right quality and right cost, then delivering them to the right place, at the right time.
How long have you worked for your company?
I joined the Hershey Company in 2015 as the chief procurement officer, and I have been in my current role since 2018.
What one word describes you best?
Passionate.
How do you approach change?
Change = growth.
I have always approached change with an open mind and viewed change as a growth opportunity. I focus on what's changing while also understanding what isn't. For example, team members or the organizational reporting structure may change, but what won't change are our company culture and values — the Hershey behaviors, which are: champion the consumers, own it, be real, take action and create the future.
As a leader, change management is a critical skill to master. Our team members approach change differently, and we need to make sure we understand how changes will impact them and clearly communicate (1) what the changes are, (2) what's in it for them and (3) what is expected of them as part of the change — and bring all our stakeholders along for the journey.
What do you like best about
what you do?
I love that we are the growth engine of the company. We leverage our supplier community for innovation ideas. We turn creative concepts to products and solutions. We create customer loyalty through flawless execution and fulfillment. We are able to quickly scale and respond to significant increased demand opportunities to drive growth, as we have done amid the coronavirus (COVID-19) pandemic. These are all critical to enabling company growth.
I love the significant and immediate bottom-line impact we make to our company. We directly impact the company's bottom line through procurement cost, manufacturing and conversion costs, and logistics and transportation costs.
With many employees working in manufacturing and supply chain operations, I have the opportunity to help coach and develop talents and help my team members achieve their professional aspirations.

I love that we own and drive sustainability programs. These endeavors — including sustainable packaging, sustainably sourced agriculture ingredients and supplier diversity — are making a positive impact on the environment as well as the communities we source from and where we work.
How did you get into the supply management profession?
I started my career in finance. After getting an MBA degree 20 years ago, I joined the leadership rotational program at United Technologies Corporation (UTX). I loved my assignment in global commodity sourcing projects at UTX's Carrier plant in Syracuse, New York, and I decided to continue with other positions within the broad supply chain and operations function.
How do you define work/life balance?
Work/life balance is a personal topic, as each person defines it differently. It is about defining priorities and aligning expectations with stakeholders from work (our managers and team members, for example) and stakeholders in our personal lives (like our parents, spouses and children).
I have tremendous support from my family to pursue my career aspirations. This has meant being able to rely on my in-laws to help with my sick children when my husband and I were at work, as well as to FaceTime my kids on their first day of school while on a business trip overseas.
I have equal support from stakeholders at work to focus on my overall well-being and/or be with my family. This has meant being able to pursue advanced educational opportunities to further develop leadership skills, or delegate an important meeting to a team member while I go on a prospective- college visit with my daughter.
We all need to define what work/life balance means to us individually. A good balance for me may appear workaholic- like to others — but it works for me and my family.
Why is contributing to the
profession so important to you?

Supply management is a function that's evolving and advancing. As part of Institute for Supply Management®'s (ISM®) Board of Directors, I'm learning from experienced supply management leaders from other industries, leveraging ISM's resources (like the ISM® Report On Business®), and also meeting talented young practitioners who bring new ideas to make our profession better.

Contributing to the profession is important to me, as many experienced supply management executives have supported my career journey, and I want to help elevate the next generation of supply chain management talent.
What is the biggest challenge facing supply management organizations?
Our biggest challenge is identifying and retaining digital-native supply management professionals and developing their agility, adaptability and the ability to link supply chain management fundamentals with the broader business agenda — which helps enable profitable growth for companies. A further challenge is using this talent to build an organization that has the ability to anticipate future issues and challenges, then plan ahead to mitigate risks.
During the coronavirus pandemic, many of us have seen firsthand how good companies have struggled to respond to supply chain disruptions. Although those companies may have great products and strong processes, they lacked talent to leverage and interpret data into actionable insights to drive agile supply chain responses.
Competition for supply chain talent and proactive management of risks are not new challenges, but they have been intensified by COVID-19.
What is your vision of the
future of the profession?

Supply chain management of the future leverages end-to-end data, insights and resources to deliver both top- and bottom-line growth.