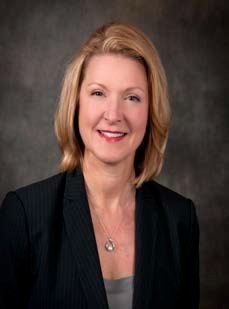 Laura Campbell
Vice President, Supply Chain
Laura Campbell was named Vice President (VP), Supply Chain in June 2019. She leads Supply Chain functions including the procurement of all TVA's materials, equipment, and services. Laura also sets strategies related to category management, fleet services, the disposition of TVA's surplus or excess materials, the relationship with suppliers including diverse and valley businesses, materials warehousing and distribution, and inventory strategies and processes.

Campbell has thirty years of experience in utility engineering, planning, and customer service. Prior to this position, she was VP, Enterprise Planning and was responsible for TVA's strategic planning process, long range financial plan, load and commodity forecasting, commodity risk oversight, and fleet asset planning and strategy.

In her former position as VP of Customer Delivery, she was responsible for maintaining and enhancing the customer relationships for the 154 local power companies who purchase TVA power. Campbell was accountable for TVA's Customer Service district offices and the delivery of TVA's Energy Efficiency/Demand Response and renewables programs.

Prior to her time as VP of Customer Delivery, Campbell was General Manager of Customer Service in West Tennessee. She was responsible for enhancing the relationship with the twenty-two local power companies in West Tennessee, including TVA's largest customer, MLGW. In this role, She also established account management practices to improve customer service effectiveness.

Before joining TVA, Campbell was Assistant Manager of Energy Resources with Memphis Light, Gas and Water and was accountable for the purchase and hedging of MLGW's natural gas portfolio totaling $300 million per year. In addition, she was responsible for the group that provides customer service to MLGW's industrial key accounts.

Before joining MLGW, she worked for Allen & Hoshall as associate principal in the energy engineering practice. Campbell began her career at Southern Company as an analyst in System Planning, responsible for the analysis of Southern's purchase power bids.

Campbell is a registered professional engineer in Tennessee.